If you've been following my blog at all, you know I've been expending good deal of time and energy (and money) remodeling some of the rooms in my house. And they are now wearing lovely, vibrant colors on their walls.
However, the comfy sofa from the basement isn't quite as colorful. Comfy, but not a lot to look at. It definitely needs a pick me up, and I could use an afghan or quilt for it. I've not been in quilting mode for quite awhile, so I've been pondering possible afghans.
In recent wanderings, I came across a mention of Amanda Perkins, which led me to her amazing Etsy shop. And then I found this beautiful pattern: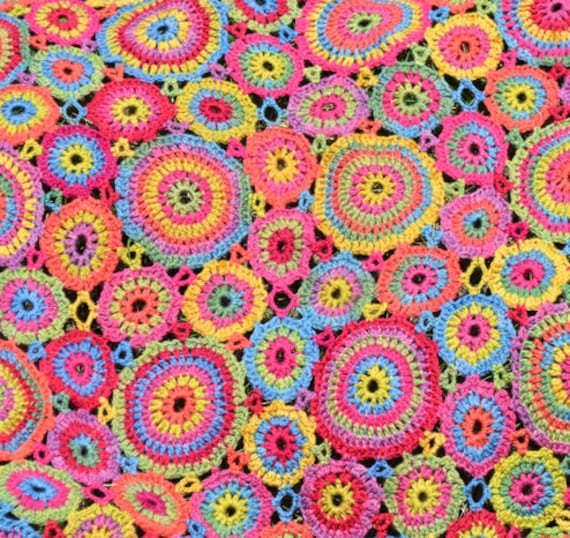 It is called Kissing Circles, and it's marvelous!! In fact all of her patterns look wonderful, and she's now on my favorites list! She has a wonderful tip about getting the colors right. Instead of carefully charting out colors and repeats, just pile them in a bag and pull them out at random. This definitely appeals to my random way of life.
However, I started to feel guilty. I have a ton of magazines and a few books already purchased, and most of the patterns not even begun. It's not a matter of her pattern being expensive (it's not), but of already purchased items not being used. So I started a dig through the stash to see if I can find something suitable.
I've settled on the Moorish Mosaic afghan from Interweave Crochet, Fall 2009. They no longer seem to be offering the individual pattern from their shop, but you can still order the digital version of the Fall 2009 issue.
My plan is to just pick three of the octagon patterns to repeat, and to use 9-10 yarns and randomly pick them from the bag. The colors will be bright, but more of a turquoise mix than Amanda Perkins' pattern. And because as usual, I have cashmere tastes on an acrylic budget, I will be using Brava Sport by KnitPicks. I've had good luck with their yarns before, and the color range is perfect for this project. The only problem is, they are out of one color I need, and low on two others. Do I wait to see if it "arrives soon" as the web site says, or order the other 9 and hope this other color shows up? Or wait and try to order them all at once? Decisions, decisions.
If it goes well, I will most likely order this pattern in the future as a treat (or Kissing Circles—both are good):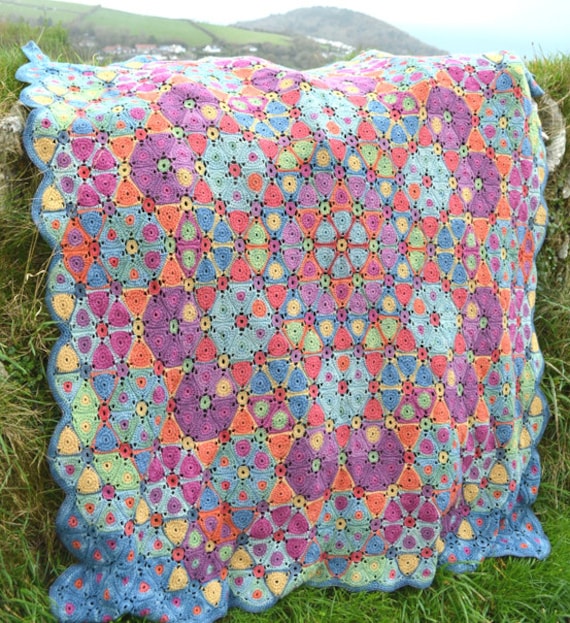 Amanda Perkins—check out her shop!